Description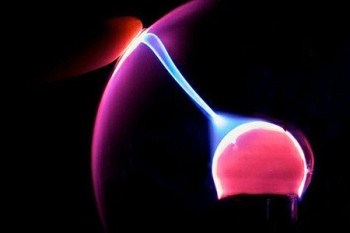 The energy trapped inside the Plasma Storm Lamp gives a very special light in pink, purple and blue tones. When you touch a point with your hand, these special lights suddenly accumulate on the tip of your finger.
This magical image created by the Magic Plasma Sphere both looks beautiful on the eye and you can relieve the stress of the day by playing with this energy source.
With Plasma Storm Lamp, you can either color your bedroom before going to bed or liven up your parties.
The Magic Plasma Sphere, which was invented by Nikola Tesla, emerged as a result of his high frequency electric current experiments in empty glass tubes to investigate the phenomenon of high voltage.
Plasma Storm Lamp is powered by electricity. When you touch the Magic Plasma Sphere, electricity does not cause any harm thanks to the glass in between.
There are 4 types of spheres in different sizes.
Small: Height: 20 cm, Diameter: 10 cm
Medium: Height: 22 cm, Diameter: 13 cm
Large: Height: 25 cm, Diameter: 14.5cm
Jumbo: Height: 30 cm, Diameter: 18 cm